10 Zero hydration tablets - Best Before Date - 02/2024
Product Details
ZERO is a refreshing sugar free electrolyte drink with zero calories that makes it simple and easy to stay hydrated. When you sweat, you lose vital minerals so it's important that they are replenished. With key electrolytes, sodium and magnesium, ZERO gives you what water can't.
Light & refreshing electrolyte drink with natural fruit flavours
Reduces tiredness and fatigue
Sugar free with zero calories
Reduces tiredness and fatigue
Suitable for vegetarians
Suitable for a wide range of sporting activities
ZERO is designed to be taken BEFORE, DURING and AFTER exercise and in hot weather.
HIGH5 Drinks Bottle can be used on the go to support your hydration, energy and protein requirements around exercise. It's a professional sports water bottle that is easy to use during any exercise. Our bottle is made with food grade plastic that is dishwasher safe and BPA free.
Pack Contents: 750ml bottle + 10 hydration tablets
Consume as part of a varied and balanced diet and a healthy lifestyle. Vitamin C contributes to the normal function of the immune system, the protection of cells from oxidative stress, and the reduction of tiredness and fatigue. Magnesium contributes to a reduction of tiredness and fatigue, electrolyte balance and normal protein synthesis.
Dosage & Usage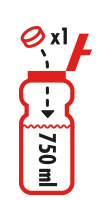 Simply drop a tab into your re-usable water bottle and watch it rapidly dissolve. The easy-break tabs mean that you can choose your ideal drink strength. ZERO can be mixed to your preferred strength, but we recommend one tablet in 750ml water.
Key ingredients
Electrolytes: Sodium, Magnesium, Potassium, Calcium & Chloride
Vitamin C
Full ingredients list
Acidity Regulators (Citric Acid, Malic Acid), Sodium Bicarbonate, Firming Agent (Sorbitols), Magnesium Carbonate, Sodium Citrate, Potassium Citrate, Natural Flavourings, Beetroot Concentrate, L-Ascorbic Acid (Vitamin C), Calcium Carbonate, Sweetener (Sucralose), Black Carrot Concentrate, Leucine, Curcuma Powder, Green Tea Leaves Extract (Camellia Sinensis O.Ktze), Sodium Chloride.
Frequently Asked Questions
What are the electrolytes in ZERO?
There are 5 electrolytes in ZERO: Magnesium, potassium, sodium, calcium and chloride.
Can I add these to a water bladder like a camelback?
Yes, but some of the natural colouring used in ZERO can stain the bladder if left in there for longer periods of time. You can continue to use your bladder with the discolouration.
Is this product Vegetarian/Vegan?
ZERO is suitable for vegetarians.
Does this product contain caffeine?
Although ZERO is not a caffeine product, it may contain traces of caffeine (less than 2mg) from the Green Tea Leaves Extract.
Is this product natural?
ZERO contains natural flavourings and colourings.
Is ZERO drug free/free from banned substances?
As part of our Drugs Free policy, we provide some products that have been batch tested. To purchase ZERO from a batch that has been tested for substances on the WADA Prohibited List, please go here. The main manufacturing site for HIGH5 products, where we make our gels and powders, is Informed Sport certified. We do not use banned ingredients in HIGH5 products and have a 100% proven track record: no athlete has ever tested positive from using a HIGH5 product.
Customer comments
| Author/Date | Rating | Comment |
| --- | --- | --- |