Longer lasting fuel for Sport
Slow Release Energy Drink contains Isomaltulose, a slowly digested low GI carbohydrate that provides you with a stable and sustained energy supply for longer lasting fuel during sport. This avoids spiking blood sugar levels and the insulin response that comes with other sugar-containing products.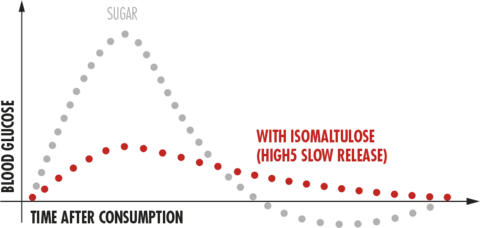 New electrolyte complex
Our new low GI Energy Drink has also been enhanced with Ocean Minerals. This is our most advanced electrolyte complex, providing you with an invigorating hit of magnesium and over 70 minerals and trace elements, to help you balance your electrolytes during sport. At HIGH5, we're always looking to use natural ingredients where possible and it doesn't get more natural than sourcing minerals from seawater.
Developed and tested in partnership with BORA – hansgrohe
As part of our thorough development work, we've also been putting the products to the test with our partner BORA – hansgrohe to ensure the products deliver in the real world, under the toughest conditions.
'It's really helpful when you can fuel your body from the beginning of a ride, knowing that you won't hit the wall later on. I feel like I have a more constant energy supply throughout. Blackcurrant is my favourite flavour!'
- Marcus Burghardt, BORA – hansgrohe
Key features:
Refreshing low GI Sports Drink
For longer-lasting energy
Natural Ocean Minerals for electrolyte balance
Developed with BORA – hansgrohe
Suitable for vegetarians and vegans
25 servings per 1kg pouch
Slow Release Energy Drink is designed to be taken BEFORE and DURING exercise.
Enjoy as part of a varied and balanced diet and a healthy lifestyle. Vitamin B6 and Magnesium contribute to normal energy-yielding metabolism. Magnesium contributes to electrolyte balance. Consumption of foods containing isomaltulose instead of other sugars induces a lower blood glucose rise after their consumption compared to sugar-containing foods.